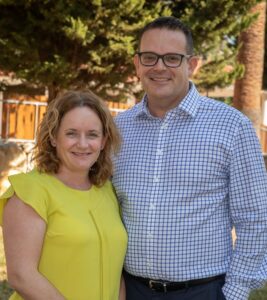 Ian and Laura became directors of TLC Private School in 2018 but have been shareholders of the school from 2010, the year the school was established.
Ian boasts over 20 years' experience in the IT industry and has successfully grown and developed his business into an award winning consultancy, working with clients across Europe. It is his skills and experience in business that Ian believes will benefit TLC Private School.
Ian's focus is on providing a strong underlying foundation to allow the school not only to settle into its new school site, but more importantly to support our Principal and teachers in their continuous quest to deliver the underpinned philosophy of our school, 'Where Every Child Matters'.
Laura's background is also in IT, her focus being in the manufacturing and service industries. Laura strongly believes in education and how important it is to instill a mindset which inspires a lifelong love for learning. She believes that a teacher's role is to ensure that children of all ages are confident, happy and well-equipped to take advantage of every opportunity presented to them.
Having worked in the corporate world and through her years of managing diverse teams, Laura believes that soft skills should be valued alongside academic success. Good grades will open many doors, but it will be the soft skills that ultimately allow an individual to thrive in the workplace. 'This is why at TLC from a young age we focus on providing opportunities to develop these attributes through personal development'.
Ian and Laura are determined to ensure that the school looks to the future in its preparation of young people and is supportive of the leadership's vision to bring the very best of a broad education to every single child who attends TLC, Where Every Child Matters.