Our Sixth Form is the flagship of our school community. It is comprised of our students who have gained at least B grades in their IGCSE exams and students who have come to us from other schools to gain their A level qualifications before continuing their education journey on to universities in Britain, Europe and around the world.
The students can access a range of subjects taught by highly qualified, motivated teachers whose experience is in helping students reach their highest potential.
Alongside A levels, students can also access further IGCSE qualifications or broaden their education through participation in our Apolytirion course or by undertaking practically based BTEC qualifications.
Subjects which can be studied to AS and A level in our sixth form include:
English

Literature

Mathematics

Biology

Physics

Chemistry

Business Studies

Economics

Accounting

Computer Science

Greek

Psychology

IELTS
The Cypriot Ministry of Education has also approved us to offer the Apolytirion, the public system qualification accepted in many Greek and Cypriot universities as well as universities across the globe. This qualification has UCAS points attached to it which can contribute to the requirements of universities or take the place of points that would otherwise be provided by A level success, offering students another route to a university place.
Advanced A Level Studies
The A Level course here at TLC Private School offers students aged 16+ the chance to study with us for up to 2 years. A Levels are recognised worldwide and are used as a condition of entry for universities in the UK, Europe and America including some of the world's best universities, Oxford and Cambridge amongst others. Here at TLC Private School, students study in classes of no more than ten to ensure that all students benefit from close personal tuition, whilst also having the opportunity to share ideas with their peers.
TLC Private School prides itself on treating every student as an individual. Students have the opportunity to build their own bespoke timetable with additional options of supplementary study such as developing English Language skills.
TLC Private School also offers exam preparation assistance and careers guidance. We also support students in deciding which A Levels they would like to take, advise them on opportunities to develop their learning outside the classroom and help them to build independent learning skills which are necessary for further study worldwide.
In addition to the academic programme, students at TLC Private School are provided with a vibrant range of extracurricular activities which supplement the curriculum. Students study in beautiful surroundings close to the sea and the stunning Akamas National Park.
The Sixth Form at TLC Private School has been in operation for two years and has already seen students achieve success. Students have full access to our UCAS coordinator who will work with them to identify suitable courses at universities across the world and suggest AS and A level options which will help them get there. Additionally, TLC Private School offers a mentoring programme designed to ensure the students make the most of their opportunities at school, enabling them to progress smoothly to the next stage of their education.
The school has a 'no one left behind' policy which means that teachers are always willing to offer one to one lessons or simply advice to help you make the most of your opportunities.
Private Secondary School TLC 'School Diploma' (Apolytirion)
This is awarded at the end of Year 13.
The 6th form is a full time school experience. At the end of Year 13 all TLC school leavers are awarded their TLC School Apolyterion. This document evidences their attainment in each component of their 6th form study, including attendance. The TLC School Apolyterion, coming from a licensed school, will assist university applications in Greece, Cyprus and overseas. When offered alongside IGCSE/GCSE/BTEC and A Level results, the document offers employers and educational institutions, a wider, comprehensive perspective of the student's commitment to study, and attainment. Attendance and commitment to the school community are also shown as key indicators of a student's personal and social development.
Graduates 2020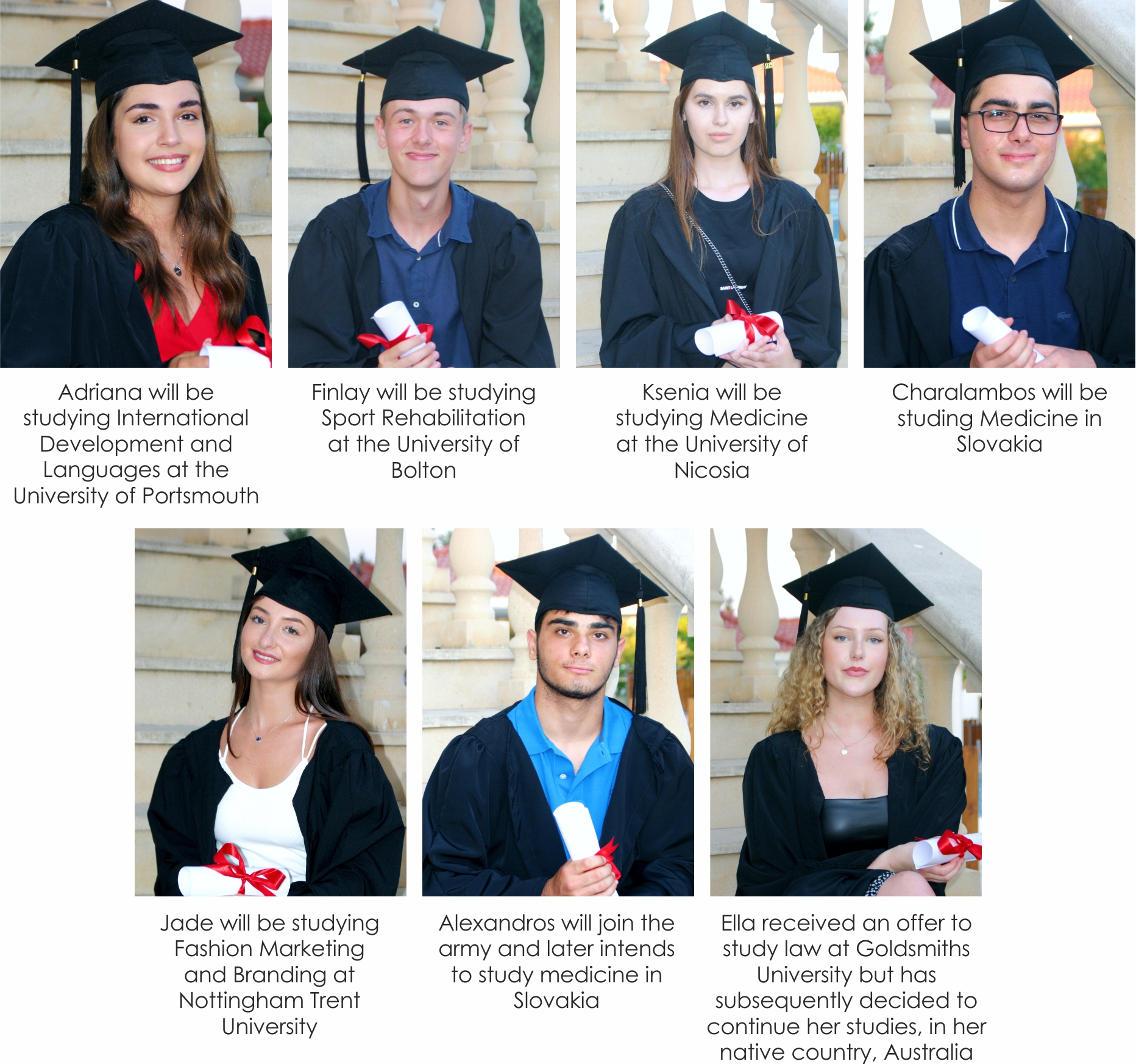 Graduation Ceremony | Presentation of Aploytirion to Graduates 2020
Graduation Ceremony | Presentation of Aploytirion to Graduates 2019
We help discover and develop our students talents in an environment which encourages success in every child. With the skills, knowledge and understanding gained from a TLC Private School education, our students are ready to take on all the challenges that life brings and allows them to make a real difference in the world.